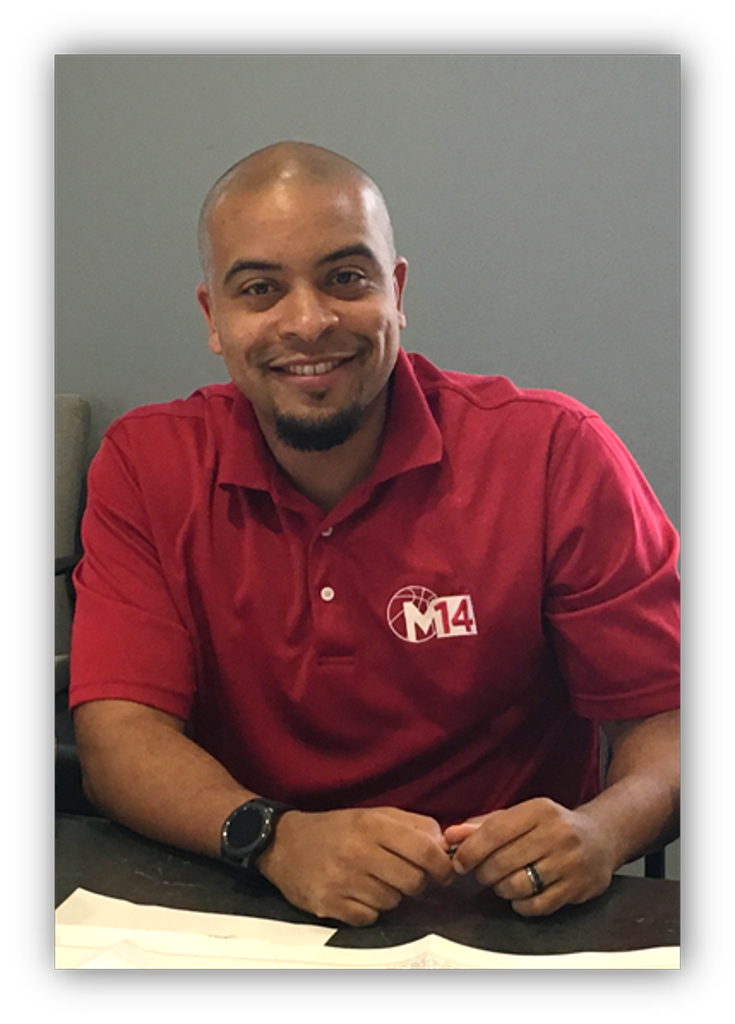 Matt Miller
Founder, M14Hoops
OUR STORY
M14Hoops was founded on September 23rd, 2009 by Matt Miller. Miller grew up in Aurora, IL and played basketball collegiately and professionally before starting the brand. The company was founded on the principles of hard work, dedication, teamwork and dreaming big! With operations officially beginning in April of 2010, the company quickly gained popularity within the Western Suburbs of Chicago. M14 offered private instruction, camps and was the only basketball skill development company around.
  "In those early days, I didn't have a clue about business. I just wanted to help each player I came in contact with get better. It was an obsession. I constantly studied the game of basketball, athletic movements, communication and tried to perfect my craft to the best of my ability. I don't think I had a social life at all for the first 5 years we were in operation."
By 2014, M14Hoops was the #1 company for player development. The company had grown to servicing over 500 clients annually. They were renting facilities throughout the western suburbs and had hired their first two full time employees, which was a major step in ensuring quality in all their programs.
     "Coach Nick and Coach Bobby have been at M14Hoops since day one. I don't know how or why those guys stuck around because at the time I couldn't pay very much. They believed in me and the vision of the brand, and we would not be anywhere near where we are today without their dedication and loyalty. Two of the best guys in the business."
During that same year, Matt realized his growth could potentially cause a problem. A close friend advised Matt to take a step back and look at the business as a whole. It was then that Matt's passion for understanding how to run a business ignited.  He did not want to lose the essence of the company, but knew in order to cement the brand long term he would have to educate himself as well as seek outside guidance.
            "People ask me all the time if this was my plan, and I tell them every time 'no'.  I literally didn't think about anything but my players and their development. I never wanted to lose the 'feel' of the brand through our growth so I took some great advice and started to write down everything I did with players. No detail was too small so I created manuals to document them. Shamefully, I think we now have over 10 manuals on how to develop players that we use to train our staff with."
With a great reputation and potential, Matt came up with an 'out the box' expansion plan:
In 2015, M14Hoops Indianapolis was started and at the same time Matt was invited to present his vision at the Fox Valley Entrepreneur Center. The FVEC is a small business accelerator program where 2 businesses are selected each year to receive business guidance from some of the areas best business minds. Matt's 'ask' from the board was help in building his own basketball facility. He felt strongly about his growth, community impact and wanted assistance in the loan process, land acquisition, as well as building the physical structure. Matt was accepted and the assistance was provided. On September 11, 2017, M14Hoops officially broke ground on their very own basketball facility.
            "That was an incredible moment, not just for me but for my staff and the basketball community as a whole.  The facility has given us a chance to help players turn their dreams into reality but more so, it has allowed us to positively effect society by leading, guiding and mentoring young people through some of the most influential years of their lives."
With the facility officially opening August 28, 2018, M14Hoops increased their ability to develop basketball players by starting teams as well as offering speed, agility and strength training. The facility is a one-stop shop for development. Less than a year later, they broke ground again and expanded the original 39,200 sqft 4-court facility to a 53,000 sqft 6-court facility.
M14Hoops has been in business for over 14 years. M14 Chicagoland now has a staff of over 50+ employees and serves over 5,000 players annually. Approximately 97% of players who train with M14 make the high school team. The M14 Girls AAU teams are part of the prestigious Adidas 3SSB & BlueStar Travel Team circuit and the M14 Boys AAU teams are part of the NY2LA and PrepHoops circuits. They have helped save families over $10 million in scholarship money.
M14Hoops currently is operating in 10 states across the US!
            "What a privilege and honor it is to be in service. The staff we have is second to none. They show up every day ready to work and their passion is felt throughout the building. M14 families have done an outstanding job respecting the facility and brand on and off the court. Youth sports can be a crazy world to navigate and I am extremely proud of how our staff, players and parents represent themselves and show leadership in the basketball community. I cannot say 'thank you' enough. This brand has allowed me to help turn dreams into reality and find my purpose."